Bipartisan Team Lead by Kaplowitz Seeks Control of County Legislature
We are part of The Trust Project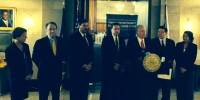 County Legislators Michael Kaplowitz (D-Somers) and James Maisano (R-New Rochelle) headlined a press conference Thursday, Dec. 19, announcing a bipartisan coalition to lead the Westchester County Board of Legislators (BOL) in 2014.
The new team, supported by seven republican legislators and two democrats, would be lead by Kaplowitz as BOL chair and Maisano as vice chairman. The vote to determine leadership takes place January 6, 2014 during the regular meeting of the BOL.
After the 2013 election, Democrats increased their majority on the Board to 10 out of the 17 represented districts. Democratic legislators are expected to meet Monday to determine their party caucus leadership, which has to this point remained behind Legislators Kenneth Jenkins (D-Yonkers) BOL chair, and Lyndon Williams (D-Mount Vernon) vice chair.
While Kaplowitz and Maisano said they had spoken with the eight other democratic legislators and were confident they would gain additional support, only Virginia Perez (D-Yonkers) was present at the press conference.
Perez and Kaplowitz had broken with the Democratic caucus last year when they formed a coalition with the republicans to forge a budget resolution, providing some compromise between the two factions.
The proposed bipartisan leadership team needs nine votes for election. Five of the seven supporting republicans were present on Thursday.
Kaplowitz stressed a new spirit and approach, which he said would allow every member of the Legislature a seat on a committee. Referencing the spirit of bipartisanship evident at the national and state levels, Kaplowitz maintained that legislators would remain true to their own party's ideologies and would provide the necessary checks and balances to the County Executive's office. "It is time for political warfare and lawsuits to be over," Kaplowitz said.
Maisano agreed, saying the coalition would do a better job of running the Board, especially since under the leadership of Jenkins there had been an adversarial relationship between the BOL and the County Executive's office.
After the press conference, Jenkins met with the press in his offices where he stated that he stood by all his actions of the past and that the Democratic caucus has traditionally stayed together and voted together. 'I cannot say what my colleagues will do," Jenkins said. "We will have to wait to the January 6 vote to see how it goes."