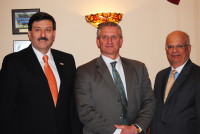 The Yorktown Republican Committee took the unusual step of endorsing a partial slate for November's town election last week, 10 months in advance.
The first set of candidates to receive the GOP's blessing at Murphy's Restaurant were Supervisor Michael Grace, who is seeking a second two-year term, Town Justice Sal Lagonia, who is seeking a second four-year term, and County Legislator John Testa, who is vying for a third two-year term representing District 1.
Republican Committee Chairwoman Serafina Mastro said Grace, Lagonia and Testa earned the committee's early stamp of approval by their firm commitment to paving the way for new businesses to open in Yorktown, delivering property tax cuts and saving taxpayers' money through increased local government and courthouse efficiencies and new taxpayer-friendly contracts.
Interestingly, the committee refrained from endorsing candidates for the two available Town Board seats, despite the fact incumbent Councilman Terrence Murphy is expected to seek another four-year term and last week's event was held at his family's restaurant. Murphy could not be reached for comment.
In addition, no candidate was chosen for highway superintendent or county legislator in District 4, currently held by Democrat Michael Kaplowitz. Incumbent Highway Superintendent Eric DiBartolo, who was cross endorsed by the Republican and Democratic committees four years ago, is not seeking reelection. Political insiders believe the Republican Committee will not challenge Kaplowitz as a thank you gesture for him breaking party ranks last year and siding with the Republican minority on the Board of Legislators to pass a budget favored by County Executive Rob Astorino, who is expected to be running for a second four-year term this year.
"We welcome any interested candidate with the same beliefs of smaller and more affordable government to submit their resumes for consideration by the committee," Mastro said. "This is a great way to experience the democratic process as well as serve your neighbors and community."
Grace was elected in 2011 in a three-way race, unseating Susan Siegel. He previously served as town attorney from 1987 to 2003.
"Two years ago I promised to bring change to a board that was unwilling to keep pace with the challenges faced by the dual interests of promoting local economic prosperity and preserving our quality of life and the unique character of our town," Grace said. "My administration has started to blow the winds of change by delivering a historic property tax cut in my first budget, passing business-friendly measures that helped open two dozen new businesses and negotiating a garbage contract that save taxpayers' one million dollars. More needs to be done, though, thus I am grateful to the Yorktown Republican Committee for their continued support of our campaign to bring prosperity back to Yorktown."
When asked about her possible participation in this year's election, Siegel was non-committal.
"I'm keeping my options open," she said. "I continue to be involved in town affairs, attending board meetings and writing about and speaking out on issues that are important to the residents of Yorktown."
Lagonia served as a police officer prior to becoming an attorney. A pilot, he owns a successful aviation law practice and is former president of the County Bar Association.
Testa, a technology and social studies teacher at Peekskill High School, served three terms as mayor of Peekskill from 2002 to 2007. In 2009, he was elected to the Board of Legislators, replacing longtime Legislator George Oros, who became chief of staff for Astorino.
"It has been an honor to serve the residents of Peekskill, Cortlandt and Yorktown over the past three years," Testa said. "Yorktown's share of county taxes have been reduced by nearly four percent over the last three years. I am also proud of the fact that we were able to defeat the MTA payroll tax and preserve the Montrose VA and I pledge to continue to fight for fiscal sanity on behalf of Yorktown's residents."
Incumbent Democratic Councilman Vishnu Patel is planning to run for a second four-year term. It's unclear whether the Democratic Committee is considering any candidates to challenge Grace.