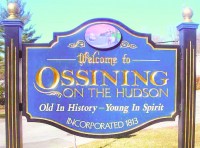 The Village of Ossining is turning 200 this year and is holding a celebration on to kick-off a series of events commemorating the anniversary.
The kick-off will be on April 2 at 6:30 p.m. and continue at 8 p.m. during the Town Board meeting. Titled "Ossining 3D," the kick-off ceremony's main attraction will be series of sculptures that will be on display throughout the village.  They will be up from May 3 in Ossining's historic buildings and downtown waterfront area until October 26.
The evening will feature an opening reception, a photo and map show and a reading about the village of Sing Sing—Ossining's first name.
The Ossining Historical Society will play a major part in the event. Photos and works of art from the society's museum will be on display. These depictions will contain images of people, historic buildings and natural treasures from the village's history. Attendees will also be able to purchase some of the artwork.
At the board meeting, Mayor William R. Hanauer and the village trustees will read the piece of legislation that allowed the Village of Ossining to become incorporated on April 2, 1813.
Throughout the year, the village will feature many attractions to celebrate its 200th birthday. According to the village website, there will be experiences for everyone, even TV lovers. AMC Networks' prime time television show "Mad Men" featured many references to Ossining in the first season. Main Character Don Draper, played by actor John Hamm, lived in Ossining with his family and the show makes many references to the town. Fans of the TV Show, and those who are just interested to see the sites of the village can take a tour of all the places–both real and fake–that were mentioned in the show. There will also be a real 1960s feel to the experience as the website asks everyone to "to wear 1960s attire. There will also be 1960s music and cars from the decade will be parked out in the parking lot.
The rest of the events, which include parties, movies, and parades, will continue throughout the year until December. For more information, visit www.celebrateossining.com.