By Neal Rentz
The World Trade Center has particular importance to Mahopac resident Gaetano Carbone.
He formerly worked for an import/ export company in an office located near the Twin Towers, where he would meet with clients. The 9-11 terrorist attacks came after he left the city to begin his career in the food industry, but the tragedy still hit him hard.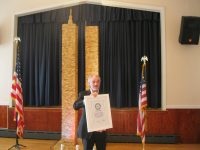 "It should never have happened, but it did," he said on Sunday.
Carbone wanted the new World Trade Center to include two structures, but while that did not come to pass, he decided to create his own twin towers by using corks from wine bottles. Carbone's artwork is 4 feet by 2.99 feet by 11.75 feet tall.
Carbone's unique creation will be featured in the 2018 Guinness Book of World Record for being the largest replica of an architectural landmark made of corks, surpassing a cork replica of the Eiffel Tower by several feet.
The 9-11 memorial was on display Sunday at the Italian-American Club of Mahopac at a fundraising event to benefit Tuesday's Children, a non-profit response and recovery organization formed in the aftermath of Tuesday, September 11, 2001, that supports youth, families, and communities affected by terrorism and traumatic loss.
Carbone was one of those who cooked the event's Italian buffet meal.
Carbone told the audience on Sunday, "I knew the towers inside out."
"The reason I built this was because when I saw the skyline was going to look different," with one tower instead of two, Carbone recalled, "We're going to make the skyline my way."
Being in the restaurant business, Carbone said he had collected many wine bottle corks and that was what he used to build his version of the Twin Towers.
When his artwork reached five-feet high Carbone said he called the Guinness Book of World Records and was told an Eiffel Tower was higher than five feet. "My goal was to bring it to nine feet, 11 inches, but it was too close to the record and so I said, that's not going to work."
Carbone said he wanted his cork creation to be 11 feet, nine inches tall and he completed it in 2015 after about a year of work. The structure consists of 11,500 natural corks and 10 gallons of glue, he noted.
Following a period of one year, Carbone was told last fall his creation made it into the Book of World records for 2018, 'We're very happy we achieved this," he said, adding he also wants to support the mission of Tuesday's Children.
Carbone said the 9-11 attacks and the deaths of first responders including police had additional meaning for him because he was a police officer in his native country of Italy for three years.
Carbone was honored by elected officials at Sunday's event, including Carmel Supervisor Kenny Schmitt, who presented Carbone with a proclamation from the town board. Schmitt recalled going to the site of the 9-11 attacks in Manhattan only days after the tragedy.
"It was truly a war zone," he recalled. "So to recreate these twin towers is just amazing. And I give you so much credit. We're so proud of you."
Schmitt said he wanted Carbone's artwork to eventually be on display at the 9-11 memorial museum in lower Manhattan.
State Assemblyman Kevin Byrne also presented a proclamation to Carbone. Byre said he was in Carmel High School on 9-11. "What makes this project so special" is it is commemorating the terrorist attacks and will serve as a reminder to those who were born after it, Byrne said. "We will truly never forget," he said.
Terry Grace Sears, the executive director of Tuesday's Children, said her organization was created by family members of 9-11 victims and seeks to fight terrorism and assist the 9-11 victims' survivors.
"This sculpture goes a long way in helping us never forget that day," she said.