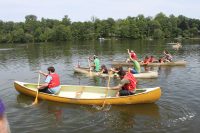 Where can you enjoy fishing derbies for kids, boat races, local art, live music, all on the same day, at the same lakeside locale in Westchester County? The place: Mohegan Lake.
Mohegan Lake's annual Lake Day celebration (scheduled for Saturday, July 15; rain date July 16) is geared for family fun and is free and open to the public. Every year, the Mohegan Lake community comes together to host this highly popular lake-wide festival by opening all its beaches to the public. Sponsoring this yearly festival is the Mohegan Lake Improvement District (MLID), who works at promoting the lake's many recreational attributes and keeping alive its history as a long time popular, natural resource frequented for the past century by New York City and regional residents.
"The lake community has always enjoyed coming together to plan and host Lake Day, not only for the public to enjoy our wonderful lake, but to also raise awareness about the lake environment," says Ken Belfer, President of MLID. All of the lake's beaches are hosting a wide variety of activities. A special "water taxi service" will shuttle folks between beaches from 11 a.m. to 5 p.m. Visitors are invited to take a dip and swim at any of our beautiful beaches! Come to all or one of our events.
Check MLID's FaceBook Page for more information: https://www.facebook.com/MoheganLakeImprovementDistrict/
WHERE & WHEN
Rock Hill Park – (Holland Sporting Club)
8:00 A.M. – 11:30 A.M. Trailbuilding.  Come and volunteer to help make a hiking trail around the park.  Coordinated by Walt & Jane Daniels.  Meet at park entrance on Horton Road.  Bring gloves, pruning shears, sturdy shoes.
Mohegan Beach Park – 3338 Lakeshore Drive
9:00 A.M. – 10:30 A.M. Fishing Derby (kids 12 and under)
Includes fishing lessons.  Rods, reels, hooks, bobbers, line & night crawlers will be provided.  Light refreshments.
Lake Mohegan Park (Section 1) –3250 Lakefront Ave
12:00 Noon – 12:30 P.M. Future Plans for Rock Hill Park – Hear about Yorktown Recreation Commission's design for the park.
12:30 P.M. – 2:00 P.M.  Art on the Lake – see display and meet some of the local artists.   Light Refreshments.
1:00 P.M. – 2:15 P.M. Boat Races (non-motorized)
1:00-Rowboats, 1:15-Canoes, 1:30-Kayaks, 1:45 Standup Paddleboards, 2:00-Sailboats  Note: Personal Flotation Devices mandatory for all racers.  Bring your own boat.
Mohegan Highlands Property Owners Assoc. – 3395 Mohegan Avenue
2:00 P.M. – 2:30 P.M. Turtles: Presentation by Patricia Johnson, Turtle Advocate & Wildlife Rehabilitator                                    
2:30 P.M. – 3:30 P.M. Kids Games/Contests.  Light refreshments.
Amazon Beach Park – 1610 Wenonah Trail
3:00 – 4:15 P.M. "State of the Lake" – Q&A with the Board of Mohegan Lake Improvement District & Patrick Goodwin, Lake Management Intern, SUNY Oneonta.  Light refreshments.
Mohegan Colony Beach – 3094 Oak Street
4:30 P.M. – 6:00 P.M. Invasive Species Presentation and hands-on training by Samantha Epstein from Clearwater
6:00 P.M. – 7:00 P.M. Pot Luck Dinner
7:00 P.M. – 8:30 P.M. Live Music – Open Mike – send name of band, story teller, poets, comics to  Violetfiremusic@gmail.com
8:30 P.M. – 8:45 P.M. Chinese Floating Lanterns – set one afloat!
8:45 P.M.–10:30 P.M. Movie on Handball Court – starting with cartoon shorts.  Movie suitable for both adults and kids.  (bring your own chairs, popcorn, bug repellant)
– WATER TAXI 11:00 – 5:00 FOR TRANSPORTATION BETWEEN BEACHES –
Sponsored by the Mohegan Lake Improvement District