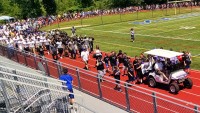 You can say what you want and think what you want about Mahopac, but when push comes to shove nobody does it bigger or better than the town that just rallied like no other town in America did to help stomp out cancer at the Relay for Life event at Mahopac High last weekend. You can say we're racists (if you subscribe to that type of broad-stroke ignorance), you can say we beat up our varsity coaches (because one guy tried to), you can say we taunt our opponents and we run around with a sense of entitlement (we've brought a lot of this on ourselves the last two years).
But you gotta give it up for Mahopac when it comes to uniting for a cause. Eyewitness News wasn't there this weekend, nor were the news vans that fly up from the big city when something bad happens in Mahopac; probably because the story wasn't juicy enough to stir the illicit pot Mahopac has been placed in over the last couple of years. Yeah, a few bad apples have branded the town as public enemy number one throughout parts of New York State, but the way this town stood behind young Sean Callahan — arm in arm, unified and dignified – could bring a grown man to tears (to that I can attest).
I saw some of the 88 teams and 906 participants from the Mahopac area that had raised close to $215,000 to battle cancer, but the team that impressed most was "Sean's Soldiers", the 1,000-strong contingent behind Mahopac's Callahan that moved many to tears Saturday afternoon.
Those that paced the track for Sean's Soldiers had raised over $100,000 on their own in the fight against cancer, making Callahan a celebrity along the battle frontier. On top of his local noteriety, Callahan, known in Mahopac as the 6th-grader who loves all sports and battles valiantly against pediatric brain tumors, hit the nation's highest earning power in the fight against cancer.
"It was a really fun day," said Callahan. "I had a great time with my team. Thanks to all."
Once again Sean Callahan has been asked to fight the insidious disease of cancer, something no child should ever have to do. As many in the region know, Sean and his whole family have been in this battle since his birth. Many times he has bravely fought back, and the ear-to-ear smile on his face was as stirring as anything I've been beholding to in a long, long time.
His dad, Dan Callahan, a widely respected youth coach in the MSA and administrator in the NYS public school system, and Sean's mom, Janine, were inspired by the outpouring of love and support; from Bad Mikey's Fitness Center, the Mahopac High football team, the Mahopac Sports Association, St. John's Parish and its CYO, to the West Point Cadets and all means in between.
"It was a special day for all involved," Janine Callahan said. "We are so thankful to everyone for coming out to support Sean but also to support everyone's dream of finding a cure for cancer."
If you ever doubted the power of sports, think again: Support for Sean Callahan has come from places like the local youth programs at MSA, the Mahopac High football team, Army football, the NY Yankees and the NY Giants… the support has spanned all levels of sport.
Army adopted the 12-year-old Callahan as an official member of its football team before the 2014 season as part of the Friends of Jaclyn Foundation, and a contingent of Black Knights led the Mahopac community around the track.
So you see, Mahopac's the same town it always was and always will be; a bold, sports-enthused town that stands up for itself and rallies behind every good cause it can; just as it did last year when Mahopac senior Michael Dacey – of Mighty Mike's Trailblazers – effected so many with his warm heart and giant smile as he fights the fight, too.
"Mahopac is a special place with special people," Dan Callahan said. "We are fortunate to live here."
It's not the town that has been negatively portrayed as racists and bigots because of a couple of misguided fools. It's more the town that raised as much money in the fight against cancer as any settlement in America; take a bow, Mahopac, you've earned the right to do so.
There's a very special young man, a hero to many, who thanks you.