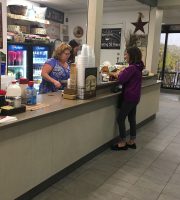 By Anna Young
A Westchester family who has been serving breakfast to train commuters at the Croton-Harmon Train Station for nearly half a century is at risk of losing their business.
Nance's Coffee, located at the Croton-on-Hudson Metro-North station, has been fighting to save their 51-year-old business since the Metropolitan Transportation Authority (MTA) put their occupied space out for bid in June.
Sean Cohen, co-owner and son of founder Nance Marafito, said after their long-term lease expired last year without a renewal clause, they exercised their holdover clause that resulted in a month-to-month contract.
Since then, the family has reached out to the MTA several times since the start of the year hoping to come to a mutual agreement going forward. Cohen said he's only received one response.
"They don't want to consider our legacy and lasting loyalty to the station," Cohen said.
Along with a discourteous walk-through conducted by MTA officials on Thursday, Cohen added that businesses eyeing the space have also been trying to intimidate the family.
"This is our business and should remain our business," he asserted.
Manager Kristine Cohen, who has been serving the multi-county clientele for over 20 years, said she loves serving the community and would be devastated if the shop shut down.
"There's nothing like giving someone their first cup of coffee in the morning," she said. "I enjoy being here and keeping it all in the family, but right now it's a whole family being affected by this."
According to Metro-North, with the shop's agreement expiring in June, they are required to offer any MTA-owned retail space through a transparent, competitive process that is fair to all and shows no favoritism, or invites litigation.
"We recognize that the Marifito family has served with distinction for more than 50 years, and they are encouraged to submit a proposal for the space so they can have the opportunity to continue to operate the stand," said Metro-North spokesperson Nancy Gamerman.
Metro-North plans to review all request-for-proposals for the space in August.
"It's a terrible thing when common sense is overshadowed by profiteering," State Senator Terrence Murphy (R-Yorktown) said. "What is happening to the Cohen family is indicative of what is happening to businesses across New York State."
Westchester County Legislator candidate Bob Outhouse added his intention to work with the MTA to come to a fair resolution that doesn't infringe on the history and the relationship the family business has with the community.
"Nance Marafito Cohen is a Croton institution," Croton-on-Hudson Mayor Greg Schmidt stated in a letter to the MTA. "She has diligently served the commuters of Croton, and her customers are the MTA's customers."
Despite the emotional weight the family business has been suffering, Nance's has also received an overwhelming amount of support from their loyal clientele who don't want to see them leave.
"They've been here forever, we're like a family," Garrison resident Josh Parker said.
Croton resident Nasry Michelen, who has been a customer of the shop for 28 years, said grabbing his early morning cup of coffee and newspaper from the stand is a critical part of his morning commute.
"This is a real community place," Michelen said. "It's a shame what's happening to them."
Sean Cohen also started a petition on Change.org hoping to show the MTA how important their legacy is to the community and encourage them to stop the bidding process. The petition has already received over 1,000 signatures.
"This is something that is near and dear to our hearts," Cohen said. "Nobody will be able to serve the community like we do, so we plan to be the successful bidder on this."