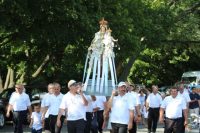 It's unique, it's a tradition, and it's back this week in the hamlet of Verplanck for five days for the 95th year.
Starting on Wednesday, July 12 and running through Sunday, July 16, Eighth Street will be the place to be for the annual Our Lady of Mount Carmel Italian Feast, the longest running feast in the Hudson Valley.
The free admission event on 155 Highland Avenue at 8th Street, which ends with a bang Sunday night at 11 p.m. with a spectacular fireworks show on the Hudson River from world champion Garden State Fireworks, has something for everyone.
There's rides and games for youngsters, casino-type games, a 50/50 raffle and beer and wine for adults, nightly musical entertainment and, of course, scrumptious food. Visitors can choose from second-to-none sausage and peppers, Zeppoles, pizza, pasta, broccoli rabe, gyros, cannoli, ice cream and much more. No one leaves the feast hungry.
On Wednesday at 7 p.m., the Miss Italia Mount Carmel Pageant will be held with three age categories: Little Miss (8-12), Teen (13-17) and Miss (18-26). On the stage, DJ Tony Corda and TC Entertainment will get the party started.
On Thursday night, DJ Bobby James will get everyone Dancing Under the Stars, while on Friday night Sugarush will entertain with Italian hits, Oldies and Top 40 tunes from yesterday and today.
On Saturday at 6 p.m., DJ Tony Corda will return, along with the area's largest Tarantella Dance. At 9 p.m., the Italian/American Idol Contest will take place with the winner receiving $100. Anyone interested in participating can register at www.olmcv.org or by emailing ellabelaberto@aol.com
On Sunday, a 3:30 p.m. mass will be held at St. Patrick's Church, followed by a procession through the streets of Verplanck where the statue of Our Lady of Mount Carmel will be carried for anyone to get close and ask for a special blessing.
Sunday night, FDR Drive Band will get everyone in a festive mood by playing 1960's through present high-energy dance hits and Italian classics.
Discount ride bracelets for each night are available with a coupon that can be found at local merchants. Free parking on nearby streets. All proceeds from the Italian Feast are donated by the Our Lady of Mount Carmel Society to charitable organizations and causes.