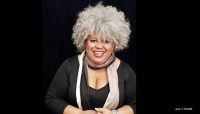 On Saturday, April 29, the Westchester Collaborative Theater (WCT) will headline urban folk-jazz great KJ Denhert in an evening of benefit concerts to celebrate its Grand Opening at 23 Water Street in Ossining. The event will inaugurate the new performance space as a venue that will feature WCT mainstage theater productions and readings as well as performing artists of varied genres in music, dance and the spoken word throughout the lower Hudson Valley. Ossining resident KJ Denhert and her duo will perform two concert sets at 8 and 10 p.m.; tickets are $40 for the 8 pm performance including an open bar and hors d'oeuvres; $20 for the 10 p.m. concert (admission only); $50 for both sets. Purchase tickets online at WCT's website: wctheater.org (limited seating available.)
The Grand Opening follows a highly successful run of WCT's mainstage production, Lot's Wife, which played to largely sold-out audiences throughout March in its new performance space.
Said WCT Executive Director Alan Lutwin, "KJ Denhert is an amazing talent and we are really fortunate to have her help in officially launching our new home. We are doubly proud to have an Ossining resident kick-off a local space that will be a venue for many performing arts events in the years to come." Lutwin noted that the new venue has already booked several events over the next few months and is currently available for future dates.
About KJ Denhert
It has been said that KJ's performance "will move you to laugh, to dance and even to cry." Reviewers have also praised her for her pathos, originality and impeccable musicianship, calling her "one-of-a-kind and not to be missed."
Her special blend of urban folk & jazz has earned her four Independent Music Award nominations and in '09 she was named one of Jazz.com's top female vocalists. KJ has appeared at scores of festivals and has residencies at the '55 Bar' in NYC and the 'Baz Bar' in St. Barts. She also recently completed seven consecutive residencies at the prestigious Umbria Jazz Festival in Italy. She performs solo, duo and with her full band.
About Westchester Collaborative Theater
Westchester Collaborative Theater is a multicultural, cooperative theater company located in Ossining, dedicated to developing new work for the stage and bringing live theater to the community. It is comprised of local playwrights, actors, and directors who employ a Lab approach in which new stage works are nurtured through an iterative process of readings, critiques, and rewrites. When work is ready for production, it is presented to the public at its new theater space.
WCT is committed to furthering theater arts in our community. It is a 501(c)(3) non-profit corporation and a recipient of production grants from ArtsWestchester and New York State Council on the Arts.