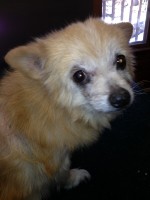 A Kent woman was arrested on animal cruelty charges by the Putnam County SPCA.
On Jan. 27 the Putnam County SPCA responded to a call for assistance from the Town of Kent Dog Control Officer regarding a case of possible animal cruelty.
An adult, female, Pomeranian dog was found at large on Towners Road in the Lake Carmel area of the Town of Kent, according to the SPCA report. Due to the dog's condition it was brought to the Carmel Animal Hospital where it was examined and found to be in a severe state of neglect.
The dog's age was estimated at approximately five years old and presented with extensive alopecia (hair loss), severe flea infestation, severe malodor, a harness that was too tight and upon removal caused patches of fur to
fall from the body.  The nails on its paws had overgrown to the point that they turned under and were pressing on the paw pads when it walked, causing one limb not to be used by the dog due to the pain of its weight on the paw.  The dog's skin showed severe seborrhea oleosa, a condition causing the skin to thicken and become scaly, oily and crusty.  This results in an extremely uncomfortable and painful skin condition.  The skin also showed extensive lichenification with deep fissures (a skin lesion that occurs in an area of chronic irritation, resulting in elephant-like skin).  The dog also exhibited severe dental disease.
The dog's condition was described as one of severe long term neglect.  Due to the overwhelming and severe state of neglect found during its examination, the Putnam County SPCA Humane Law Enforcement Department investigated this as a criminal case of animal.
The dog's owner, Bridget A. Joyce of Towners Road, Kent was arrested by officers of the Putnam County SPCA and charged with animal cruelty, a Class A misdemeanor.