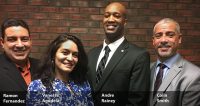 The Peekskill Democratic Committee last week endorsed Councilman Andre Rainey to try to unseat two-term incumbent Mayor Frank Catalina in November.
Rainey, who has been a member of the Common Council for the last 17 months, is owner and president of NOO Moves Entertainment, which he founded in 2010. He has sometimes sparred with Catalina at meetings and, last week, helped block two of the mayor's recommended appointments to the Human Relations Commission.
"In my time on the council I am proud of the successes we have had in recruiting new development and business and that will continue when I am mayor," said Rainey, a 2002 Peekskill High graduate who has been very involved with youth activities in the city, particularly at the Kiley Youth Center. "But what I will bring to the mayor's office that is different is a positive, collaborative approach to government that builds bridges to the community engagement, not walls."
Running with Rainey for three available seats on the Common Council will be Colin Smith, an attorney who currently sits on the Peekskill Board of Education, Ramon Fernandez, president of the non-profit Peekskill Hispanic Community Corporation, and Vanessa Agudelo, a member of the Conservation Advisory Council and chair of the Environmental Climate Justice Committee for Peekskill's NAACP.
Noticeably absent from the ticket is councilwoman and deputy Mayor Drew Claxton, who has served on the council since 2002 and has been battling serious health issues in recent months.
Catalina, an attorney with a practice in Peekskill, said he his friends with Smith and Fernandez and welcomes the chance to remind voters of all the positive things happening in Peekskill under his leadership the last four years.
"I think I have an extraordinary record by every objective measure and our facts and numbers are not subject to interpretation," Catalina said. "My reason for running for office and my goals were clearly laid out when I ran for office and I'm prepared to detail every promise I made and every accomplishment achieved. Mr. Rainey too has a record and I look forward to stacking those records up against each other. I rest assured the public usually gets these things right."
Catalina said an "unprecedented number" of candidates, totaling more than 40, have expressed interest in being part of his Republican ticket, which has yet to be finalized. Councilman Joe Torres will be seeking a second four-year term, but Catalina confirmed Councilman Vincent Vesce will not be running for reelection.