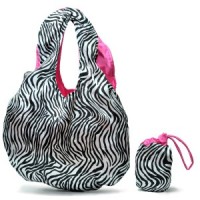 By Janine Bowen
Every woman knows the perils of wearing high heels. By the end of the night, your feet hurt and all you want is a pair of comfortable, flat shoes. Luckily, a new business gives women a way to carry and change shoes while still looking stylish.
The Flip Flop Bitch is an online tote company started last year by Somers resident Cindy Massari. The company offers unique tote bags, in styles ranging from causal to glamorous that are designed to allow women to carry their flip flops or flats to change into after a long night in stilettos.
"This was something that I had to create because I couldn't find it out there in the market," explained Massari of how the company came about.
"It was something that I was envisioning that I would want to be carrying…and if I'm [in need of] it, there must be other women out there suffering in the same way," she said.
Massari explained that, before starting the company, she had previously carried generic tote bags or plastic grocery store bags, that didn't match her outfit, because her shoes couldn't fit in her regular purse. She decided that she needed to create something that could fulfill the needs of women everywhere while allowing them to look pretty.
The totes are versatile, because their large size allows women to carry almost anything they may need. In addition, they all come with matching wristlets to carry essentials like make-up and cell phones. When not using the tote, it folds up to fit inside the wristlet for storage.
Despite the name, Flip Flop Bitch, the company will actually not be selling the summer-time shoes until the spring of this year. Massari, and her daughter, Laura, who runs the financial end of the company, are currently in the process of purchasing bright colored flip flops. The shoes, which will be branded as "Bitch-Flops," will feature the Flip Flop Bitch logo, a winking girl that Cindy Massari has been sketching since childhood.
"She's been with me my whole life…she's very sassy and very mischievous," said Massari of the logo which she felt would be perfect for The Flip Flop Bitch.
Like the logo, the company name has a unique story behind it. Massari, who used to bring her flip flops everywhere, was nicknamed "The Flip Flop Bitch" years ago by jealous friends who would have to end a night by walking home in painful heels or just walking barefoot.
Since she began selling the bags, which are all handmade in the United States, local women are adopting the title as their own as well.
"They love the name and feel that this is an empowering fashion accessory for them," said Massari, who noted that the product has been especially popular with bridal parties.
Going forward, Massari hopes to expand her company by potentially introducing clothing line as well as fashion accessories, like carriers, for dogs.
Anybody interested in purchasing a Flip Flop Bitch tote can visit theflipflopbitch.com.