Homeowners looking to add color, style and a hint of sophistication to their homes should stop by TapeMeasure Design, a new home design store in the heart of Pleasantville that includes a showroom full of rich fabrics, wallpaper samples, area rugs, custom-made furniture and upholstered headboards.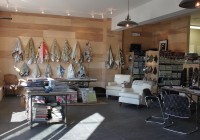 Co-owned by the husband-and-wife team of Elizabeth Calderone and Warren Cook, the store features one of the widest selections of fabrics and wallpaper in Westchester. Some of their services include upholstery, re-upholstery and the creation of slip covers, custom-made draperies, valences and cornices, a variety of custom-made shades, chairs, sofas, headboards, banquettes, ottomans and upholstered beds.
"I've always gravitated toward the higher end of things," said Calderone, who spent most of her professional career in the fashion industry, holding management positions at Barneys New York, Bergdorf Goodman and Theory.
Calderone manages the brightly lit store, which includes a large workshop in the back. A couple times a week she can be found in New York's Designers & Decorators Building looking for the latest high-end fabrics for her clients.
In addition to her love of fashion, Calderone, a Pennsylvania native, has always had a fondness for interior design. Out of college, she found a job in the Macy's home merchandising department, and over the years she has been known to assist friends with their home design projects.
It's no surprise that when she grew tired of her job in Manhattan, Calderone turned to the upholstery business. She and her husband discovered Upholstery by Anna about two years ago.
Its owner, Anna Maraldo, who had been running it for 25 years, was interested in downsizing. The couple saw the perfect opportunity to merge the successful upholstery business that Maraldo had created along with their own vision of a high-end custom home furnishings store
"The chance to work with Anna and to build on her reputation represented an irresistible opportunity," said Calderone, who now employs Maraldo and whose specialty includes drapery design and custom bedding as well as directing the store's team of upholsterers and crafts people.
While TapeMeasure represents a decidedly modern design aesthetic, the store is open to serving the styles of many customers. They include young couples choosing home furnishings for the first time, older couples looking to "refresh" their homes or customers interested in preserving and repurposing old furniture pieces.
Calderone often requires a photograph or two, a drawing, even a swatch of color to provide inspiration. "I feel that helps them get to where they want to go," she said. Calderone also points them to the wide selection of fabric samples available in the store, fabrics that come from Italy, France and the United States and represent high-end companies like Pierre Frey, Zoffany, Designers Guild and Osborne & Little, to name a few.
"Elizabeth has a great fashion sense and a tremendous knowledge of fabrics," said Maraldo.
In addition to serving customers in her store, Calderone often meets clients in their homes to provide more detailed assessments and to better connect with them. Repurposing old furniture is also particular passion of Calderone's.
"We've found that people are more and more committed to what they already have," she said.
Pieces that have been handed down through the generations are particularly valued, Calderone added, referring to the old wing-backed chairs, sofas and other pieces of furniture her staff has worked on.
While Calderone is proud of the work she and her team achieve, she is always delighted with the transformation that unfolds.
"I love to see that metamorphosis take place. It's really very satisfying," she said.
TapeMeasure Design is located at 41 Washington Ave. in Pleasantville and is open Monday through Friday from 10 a.m. to 5 p.m. and on Saturdays from 8:30 a.m. to 5 p.m. For more information, call 914-769-6421 or visit www.tapemeasuredesign.com.