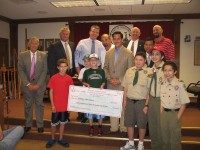 State Senator Greg Ball (R/C-Patterson) received an enthusiastic welcome from Yorktown officials last week after securing $150,000 for recreational renovations.
The grant will be utilized, in part, for improvements at the 202 ballfields and resurfacing of the in-line skating rink in Shrub Oak.
"We appreciate all the efforts you're making for us at the state to get some hard earned money back to Yorktown," said Supervisor Michael Grace.
"These facilities need work and the town needs some help with funding and I am proud to be able to help," said Ball. "As long as I am in office, I will continue to deliver for the residents of Yorktown and all the towns I represent and fight to bring as much of our tax money back from Albany, to home, where it belongs."
On hand for the ceremonial big check presentation were Yorktown Athletic Club President Rich Campanaro and Shrub Oak Athletic Club President Steve Rosen.
"There are a lot of fields in town that will be revamped with this money," Campanaro said. "I would like to thank Senator Ball for his hard work in securing this grant for our town."
Ball said he had also secured $100,000 for a senior center in town and would be announcing funding for a planned Pines Bridge monument at Downing Park in the near future.