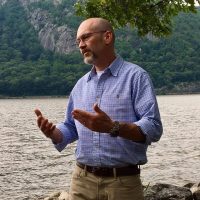 In the ever-interesting race to lead the Putnam County Sheriff 's Office, another candidate has jumped into the fray giving the county's Democratic Party its first standard-bearer since 2009.
Robert Langley, a Garrison resident and retired county sheriff 's investigator, announced his candidacy last week as members of the county's Democratic Committee rushed to collect enough signatures to get the first-time candidate on the ballot. He joins incumbent Sheriff Don Smith, a Republican seeking his fifth term, and Republican challenger Andrew DeStefano, a retired NYPD captain, in the race for Putnam's top law enforcement job.
Stressing it's time for a change, Langley said he wants to bring "integrity and compassion" to the sheriff 's office.
"I'm not a politician. I never have been," he said. "Just a person that wants to do the right thing."
When asked to elaborate on his statement about bringing integrity back to the department, Langley spoke generally that while you don't have to like everybody, you shouldn't go after anyone maliciously.
When asked about Smith's retraction and apology letter to former district attorney Adam Levy over the Hossu rape case, Langley simply said, "we choose our own paths." He said dishonesty within Smith's office and residents paying the price for his mistakes motivated him to run.
"I'd say it's a disappointment that something like that was done," Langley said. "A young prospective district attorney's career is likely destroyed by that. The damage is done and we cannot turn the clock back on that."
Langley, a lifelong Putnam resident, served with the sheriff 's department from 1984-2007. Langley was a criminal investigator assigned to forensics and
identification and was a member of the K-9 unit. He also was a training officer in emergency communication. During his tenure, he received several commendations and was even part of a unit that was a security detail for Pope John Paul II when he visited Yonkers in 1995.
He has also volunteered for the Mahopac Volunteer Fire Department, Garrison Fire Company, and Continental Village Fire Department. He grew up in Carmel and graduated from Mahopac High School.
When addressing the drug issue in Putnam, Langley suggested increasing drug counseling for addicts to slow down the demand for drugs and educating young people in school about the dangers of drugs.
"If we reduce the demand, we won't have drugs coming into the county as they are now," Langley said.
Additionally, he said highway interdiction would also curb the amount of drugs entering Putnam.
Langley worked for Smith for about five years. When asked to describe his relationship with Smith, he declined comment.
The last time a candidate was on the Democratic line for the sheriff 's seat was when Kevin McConville ran and lost in 2009 against Smith. In 2013, a Democratic candidate couldn't be found and that looked to be the case again this year until a last ditch effort found Langley, who changed his registration from Republican to Democrat in Dec. 2016.
Smith, when reached for comment, welcomed a Democratic opponent into the race.
"Sheriffs are known as 'the peoples' law man' and as such, elections are a very important part of the process," Smith said in an email. "For those reasons, I welcome and respect the fact that the people of Putnam County deserve to have a choice in selecting who will serve as their Sheriff for the next four years."
He agreed with Langley's assertion that a sheriff's office needs integrity and compassion, arguing his office has provided that to Putnam residents during his tenure.
"I am truly humbled and appreciate so much the continued strong support I am receiving from the great people of Putnam County," Smith, a former brigadier general, stated.
Besides the newly emerged Democrat running, Smith is facing a challenge from within the Republican Party. DeStefano has been collecting signatures to get on the ballot daily. He called on Smith to either resign or drop out of the race when the retraction letter came to light last month.
When reached about a Democrat entering the race, DeStefano said he thinks it's great.
"I wish him luck," DeStefano said.
The Democratic Executive Committee held a meeting on June 26 to vote to nominate Langley as their candidate this November. Democratic Committee chairman Jim Borkowski said in a statement Langley's life has been dedicated to serving the community.
"He is perfectly qualified, and has the moral compass which neither Republican candidate can match," Borkowski, who ran for sheriff in 2009 as a Republican, said. "Bob Langley will restore integrity and credibility to the leadership of the Sheriff's Department. "