Do you like road trips? They can be a lot of fun with kids!
I love going on trips with my son in our neighborhood and beyond. In this column, I want to inspire you to take a trip — or even two — outside of Westchester. Pick from these four opportunities:
Children's Museum in Hartford, CT
The Children's Museum in West Hartford, CT, offers hands-on fun with science and nature for younger children and families. Their mascot Conny, a 60 ft. replica of Connecticut's state mammal the Sperm Whale, will greet you. Have fun watching their new baby fennec foxes Calvin and Hobbes, enjoy a show in the digital planetarium with your kids, and their newest exhibit, Dinosaurs Alive-Jurassic Treehouse.
My husband just took our son there and reported back that it's not a fancy museum, but my son loves whales and enjoyed Conny, plus he found the planetarium show interesting.
Hudson and the Museum of Firefighting in Columbia County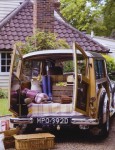 From North Westchester it's only 1.5 hours to get to Hudson in Columbia County. I suggest taking your time and enjoying the beautiful scenery on the way — isn't that what road trips are all about? Point out the many farms to your kids, belt out songs, play "I Spy", and have lunch in a quirky little diner you just happen to drive by.
When you get to Hudson, have fun strolling down Warren Street, past Federal, Italianate and Queen Anne buildings. It is lined with 50 antique stores, restaurants, and quaint gift stores.
Hudson is home to the FASNY Museum of Firefighting, one of the largest fire service-centered museums in the world. It features 60 full-sized fire vehicles for viewing, with some designated for kids to climb on.
Explore Pennsylvania and the Crayola Factory
I have yet to make it to Pennsylvania, but visiting The Crayola Experience™ at Two Rivers Landing one of those road trips I'm looking forward to. It's only a 2+ hours drive from Westchester, and my son would enjoy all they have to offer for kids.
You and your children get to see how crayons and markers are made in a live demonstration, and you also get to participate in plenty of hands-on arts and crafts activities using Crayola's different products.
Fly to Orlando in Just 3 Hours!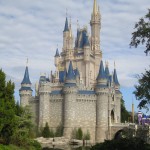 Sick of the cold weather? Take the family to Orlando! Flying out of Westchester Airport makes a trip to Florida a breeze. It only takes 3 hours to get to Orlando from White Plains, and it makes taking your kids to one or more of the famous theme parks in a weekend possible.
We recently spent three nights in a new hotel in Orlando and did just that — we took our son to Disney World and SeaWorld. We even get to touch a dolphin! Your other options include Epcot, Universal Studios, and the Kennedy Space Center.
Or why not do the most relaxing thing — just fly to a nice Florida resort and explore and enjoy all the hotel has to offer. We were so busy going to the parks that we didn't really get to take advantage of everything the hotel offered – a kids club, a spa, outdoor dining, and more.
Westchester is beautiful and has a lot to offer, but exploring towns and fun attractions that are only a few hours away make for a great opportunity to create special memories with your kids.
Dagmar Bleasdale is the founder of the popular blog Dagmar's momsense. She's making sense of motherhood, breastfeeding, attachment parenting, frugal and green living, home decorating, Twitter (18,000 followers) and life in Westchester, NY. She was named one of the Top 25 Eco-Friendly Moms/Bloggers.